The Next Chapter
A coffee roasting company dedicated to rekindling the people's lost appreciation for quality coffee, one cup at a time.
At Chapter Coffee Roastery and Cafe, the coffee takes center stage as they devote themselves to the craft of coffee roasting and brewing, all the while, they keep exploring new industry trends and techniques.

Ernest Martin, General Manager and Roast Master at Chapter
What is specialty coffee for you?
Everybody likes a good cup of coffee… that's a fact; but have you ever thought that maybe there's something out there that's better than what you've been drinking every day?
Specialty coffee is all about creating a beverage that exudes quality, a notch above the commercially accepted coffee beverages, from the careful selection of raw products down to it roasting, and careful preparation of the drink, it is treating coffee not only as a beverage but as an exceptional drink.
What is your mission/vision?
To be the leading Café in the Philippines in terms of Specialty Coffee Program, Coffee Roasting, Food and Beverage pairing and service.
Share a few words on your green bean procurement? The selection process, decision criteria, etc.
Our green beans go through a long and rigorous process from the moment each bean is individually handpicked from the farm, until it is processed and tested for quality before it is packed and exported to our doorstep. And that's only half of it! Once we have the beans, it's time to roast 'em! Specialty coffee needs to be handled by highly skilled roasters to be able to bring out the best flavors and aromas out of each profile.
Choice of a roaster and why? (Is this even relevant to the roast process? and to the consumer?)
Everything about coffee roasting means something, it is like a weapon of choice, for the coffee roaster. The Giesen features a very stable Airflow system and Heating system, this ensures the roasting level is uniform every roast. Giesen is not only sound but is also very easy to love, with its aesthetic design, we have selected the Giesen W6A roaster, a 6KG shop roaster able to roast a modest 150KG per day workload. With a dominant presence, it is only right to place a Roaster this good looking in the shop
Roast philosophy, why roast the beans the way that you do?
Simple, we roast our coffee the way we roast them simply because that is how we enjoy them. We believe in something that we love, and if you love something, it is not very hard to make others love it too.
Where is Chapter Cafe located?
Chapter Coffee is located in Maginhawa, Quezon City
Chapter Coffee's operating days are from Monday to Sunday and hours are from 11am to 11pm, everyday.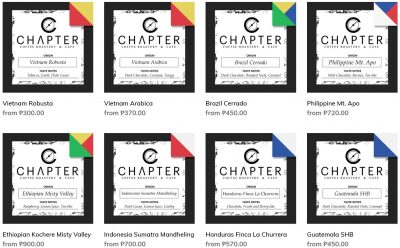 Visit Chapter Coffee